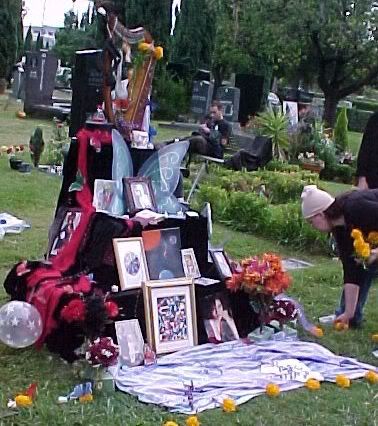 The sun tried to peek through the storm clouds in the early November sky. It even shined through the cool drizzle most of the morning, until booms of thunder and bolts of lightening sent the sun hiding and the rain soaked everything it saw. It nearly never rains in southern California. But November 1 2008 was no ordinary day. This day, "Dia De Los Muertos," or "LA Day of the Dead," as they say it in Hollywood, is a big event at Hollywood Forever Cemetery. Once a year, friends, family and other curious celebrants gather to honor the spirits of souls who've moved past this earth. On this day, hanging with the headstones and statues, elaborate annual altars visit town for one day only. Many believe that Day of the Dead lets the departed visit with the living for awhile.
Wherever they are now, on this day keepsakes, heirlooms and mementos, glowing candles and marigolds bring the dead back to brilliant three-dimensional life. Down the paved path, left at the first curve a harp flocked with faux butterflies sat atop a black velvet three-tiered backdrop, layered with a few of her favorite things. Her paintings, her baby pix and her grown-up glamour shots. And there was that hot Halloween outfit she never got to wear. Marigold paths dotted each side of the altar, and off to the left, written in the fresh orange flowers a single word: LOVE. Passersby paused and gazed at the girl in the photos, who gazed back with doe-shaped brown eyes. "She was beautiful," a man said. He wondered, who was she? She was the kind of girl that would have smiled at the irony of the brief thunderstorm that swept through the sunny city's parade.

Who was Belinda?
She loved Bettie Page - the fair skinned dark-haired 50s photo queen famous for her black vinyl outfits, sexy spike heels and fun-loving smile. She loved movies: psychological thrillers, action flicks and "anything where somebody has an innate ability to kick the ass of anyone around them."
She admired Uma Thurman's character in the Kill Bill flicks: a blond dark heroine; a vinyl-styling, sword-fighting assassin-slaying avenger.
She was, one friend would say, "a rugged angel." She had a tomboy vein, was a self-described "sci-fi and anime junkie," a gamer - a chick with a morbid streak. She was a bad ass, but a good soul: fierce, candid, fragile, vulnerable, generous and kind. She wrote a song called Matroshki - a reference to the nested painted wooden dolls sold as souvenirs in Russia. Most commonly the outer doll is an adult woman, with the inner dolls increasingly younger and the smallest, a child. The matroshki (or matroshky) metaphor is that a person has an outer layer, and inner layers; one must keep peeling away to to learn more and more.
Belinda's multi-faceted multi-layered personality was apparent to her friends. She had a way with words, but a single word or paragraph couldn't encapsulate Belinda. What Winston Churchill once said about Russia, a friend said of Belinda: "Her life was a riddle, wrapped in a mystery, inside an enigma," he wrote on her myspace page in the wake of her death.
She had a weak body but a strong mind. She studied the world: history, logic, literature and cultures well and little known. She admired Japanese Geishas, lady entertainers known for their pale-white makeup, elaborate upswept hair and colorful kimonos. They are women who train from childhood to refine and perfect their talents music, dance and the arts. "I am an American Geisha," Belinda wrote on myspace. "We sell our talents, not our bodies." She spent a short lifetime honing those talents. She earned love and respect for her art.